Urge Congress to Close the Coverage Gap.
In Florida and the 11 other states that refuse to expand Medicaid, more than 2 million people still live without reasonable access to health coverage.
This Summer, Congress passed budget resolutions that include:
Fixing the Medicaid Coverage Gap;

Expanding Medicare to include dental, vision, hearing benefits and lowering the eligibility age; and

Long-term care for seniors and persons with disabilities (HCBS).
The U.S. House and Senate are now targeting OCT 1 to pass a final budget, but there is no guarantee that Medicaid expansion will be included. That's why it's critical to take action.
With one-click, contact Florida's congressional representatives and urge them to support a permanent and comprehensive fix for the coverage gap in the final budget!
Frequently Asked Questions
What is the coverage gap?
---
Adults who fall into the coverage gap have incomes above their state's eligibility for Medicaid but below poverty, the minimum income eligibility for tax credits through the ACA marketplace.
In Florida, Medicaid eligibility for adults is quite limited. Adults must 1. Have a dependent child and 2. Make less than a third of the poverty level (approx. $7,000 in a family of 3). Single adults do not qualify no matter how little they earn.
---
How much will it cost to close the coverage gap?
---
In the Senate, the proposed FY2022 Budget Resolution framework totals about $3.5 trillion in investments, including expanding access to care. The $3.5 trillion in investments is offset by three main buckets:
Health Care Savings
Reforming the Tax Code
Long Term Economic Growth
The state budget will also experience savings in emergency room expenditures and costs associated with the use of other safety net programs. If the state chose to close the coverage gap (which it still can), Florida would see a net gain of $1.8 billion over a two-year period.
---
What can I do to help?
---
Share Health Care Stories

Visit us online (www.healthcareforfl.org/share) or email FLVoices@healthyfla.org
Recruit Friends and Family to Sign the Petition

Text MEDEX4FL to 52886 or www.healthcareforfl.org
Contact Your Legislators

Contact your state legislators at www.healthcareforfl.org/takeaction
Join the Coalition

Officially join the coalition at www.healthcareforfl.org/join
Regular calls and emails with the campaign organizers
Coordinated theme weeks and days of action
Participate in trainings
---
Who benefits from closing the coverage gap?
---
Closing the coverage gap benefits working Floridians. It benefits workers losing their employed sponsored coverage and working adults who are not offered coverage through their jobs or cannot afford it.
Most of the adults who would be eligible are already working full-time for the full year but are working in low-wage jobs in industries with low employer-sponsored insurance (ESI) offer rates. If Congress closes the coverage gap, approximately 789,800 uninsured workers would gain health insurance.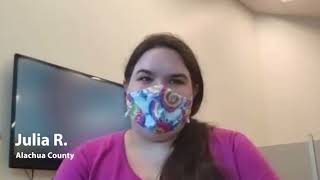 ---
---